Well, here in Michigan we are digging out from the latest blizzard. Michigan schools woke up to between 6 and 15 inches of snow following this mammoth storm. But that was minor in comparison. We understand that other parts of the midwest were hit harder than us with areas in Illinois receiving as much as 25 inches of snow! Meantime parts of Indiana and Kentucky were only dusted with snow and had more trouble from ice and freezing rain. Now the East Coast is getting pounded again! Well, it is winter and what do we expect?
But it can be hard to explain weather and meteorological conditions to kids. For that matter, I have trouble following it all myself!
But a great way to teach kids about this subject is through a visit from our Earth Balloon school assembly which we call The Earth Dome.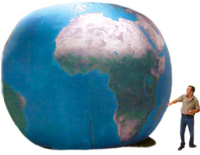 The Earth Dome is a giant Earth Balloon, standing twenty feet tall, and covered with thousands of high resolution photos taken of the planet's surface from the space shuttle. These photos have been melded seamlessly into a highly detailed and seamless skin giving observers an unparalleled ability to see and understand our planet.
Relevant to today's discussion, however, is the portion of this school science assembly that deals with the atmosphere. In describing the relative size and depth of the atmosphere we are able to reveal a little of how weather patterns form and how they produce storms and blizzards such as the one through which we just lived.
Best of all, this fine school assembly is available just about everywhere as Mobile Ed has multiple tours on the road. In the states of Michigan, Ohio, Illinois, Indiana, Kentucky and other parts of the midwest school assemblies are performed by the amazing Ms. Kathleen Day, of Springfield, Ohio. On the East Coast, with occasional forays into the Midwest, Michael Carrell does the duties with great skill and understanding, assisted in the area around New York City by the wonderful and charming Mr. Tom Barry of Long Island, New York! Meantime, in California school assemblies of this type fall to Mr. Mario Tomic, our suave European sophisticate and sometime lovable clown currently resident in sunny Southern California, where no one has to worry about blizzards, but where kids still need to learn about our planet!.
Geoff Beauchamp is the Regional Manager of Mobile Ed Productions where "Education Through Entertainment" has been the guiding principal since 1979. Mobile Ed Productions produces and markets quality educational school assembly programs in the fields of science, history, writing, astronomy, natural science, mathematics, character issues and a variety of other curriculum based areas. In addition, Mr. Beauchamp is a professional actor with 30 years of experience in film, television and on stage. He created and still performs occasionally in Mobile Ed's THE LIVING LINCOLN