Tunisia went thru a soft revolution recently and Egypt is still going through an historic upheaval in their government. Meantime Algeria is showing signs of fomenting unrest. And leaders in Saudi Arabia may themselves be worried by this tide of popular uprisings against unpopular leaders.
How do we teach kids about these events? What is the best way to relate these events in other nations to similar times of upheaval in the United States. How do we show them clearly where these events are happening in a manner they are likely to fully grasp.
Well, dear readers, it will come as no surprise to you that we find the answers to these questions to be simple. School Assemblies!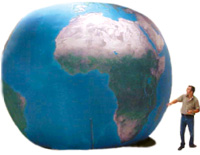 To show where these soft revolutions are occurring, there is nothing better than a visit from our Earth Balloon school assembly The Earth Dome. With a globe some twenty feet tall, the scope and size of the planet is readily apparent, and pointing out locations of unrest is quite simple.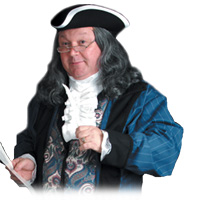 To relate these events to our own history schedule a visit from Ben Franklin so kids can here first hand of the violent revolution that gave birth to this nation. Or a visit from Abraham Lincoln to discuss first hand the horrible rending of our nation in civil war. Putting world events into perspective through comparison to real historical events close to home is a great way to make both topics more clear in young minds.
Geoff Beauchamp is the Regional Manager of Mobile Ed Productions where "Education Through Entertainment" has been the guiding principal since 1979. Mobile Ed Productions produces and markets quality educational school assembly programs in the fields of science, history, writing, astronomy, natural science, mathematics, character issues and a variety of other curriculum based areas. In addition, Mr. Beauchamp is a professional actor with 30 years of experience in film, television and on stage. He created and still performs occasionally in Mobile Ed's THE LIVING LINCOLN