School assemblies are great for putting into a palatable and entertaining form current issues that kids need to know about. In Ohio and Indiana, some of our schools are doing just that!
The North Pole is melting and we think kids ought to know.
"Arctic sea ice extent averaged over January 2011 was 13.55 million square kilometers (5.23 million square miles). This was the lowest January ice extent recorded since satellite records began in 1979." This according to recent report from the National Snow and Ice Data Center (http://nsidc.org/arcticseaicenews/).
Many and various other reputable studies are fairly irrefutable in their contention that the Earth is getting warmer.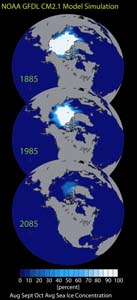 Of course there is discussion from different political constituencies as to what exactly is causing this trend. We feel kids need to know about the science behind the changes in world temperatures, but the last thing we want is to embroil a school in controversy over political causes. Principals have enough on their plates, right?
So Mobile Ed has produced a wonderful environmental science assembly called Our Changing Climate, which addresses these issues in exciting and fun ways sure to please all student audiences, while carefully skirting political controversy. This is a great science assembly perfect for introducing students to new concepts or for reinforcing lessons already taught. Using video, live demonstrations, enhanced graphics and animatronic characters, Our Changing Climate is a perfect science assembly for Earth Month in April, when schools all over the country spend some time addressing issues relating to our planet.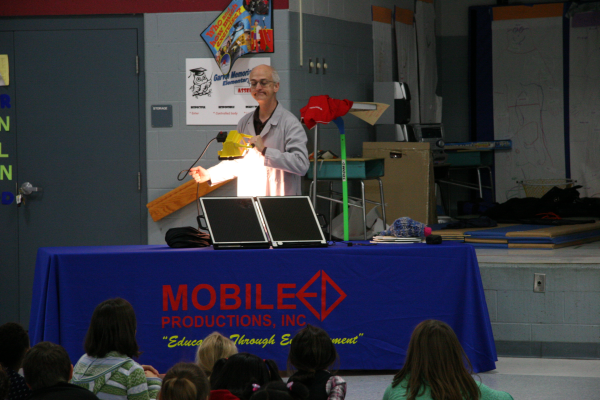 This April we will have our great school assembly performer, the indomitable Jeff Hoge, traveling to schools in Ohio, Indiana and Kentucky performing this great school assembly in schools and showing kids exactly how things are changing, and what impact that may have on them and on other peoples around the globe. In order to address the controversial aspects of this topic, Jeff carefully explains the view from both sides of the debate without taking either side himself. If you have not made plans for your April school show, or even if you have, you might want to check and see if Jeff will be in your area. Part of April he will also be in Illinois and Wisconsin.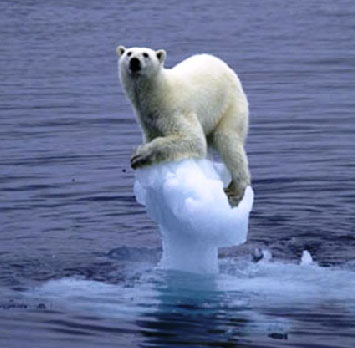 If you do not mind jumping in a little earlier, his tour will take him from Illinois over to some of the east Coast states in March. Regardless of when you schedule this program, you really should try to find a time to host this amazing environmental science school assembly! Your kids will have a great time and everyone will learn some important lessons about Our Changing Climate. By the way, many of the issues and themes in the program are also echoed in State Standards in many areas, so the program is of great help before mandatory science testing.
We have heard that as the ice melts, various countries are already scrambling to obtain the "right" for fishing in the Polar Sea during the summer, as well as the "rights" to whatever mineral and oil deposits lie beneath the ocean at the top of the world. Here at home we don't know a lot about that, but we do feel our kids have a "right" to good information about what is going on "way up North" After all, if the North Pole melts, what will happen to Superman's Fortress of Solitude, and, more importantly, Santa's workshop?
Here is some additional information about school assemblies for Ohio and Illinois!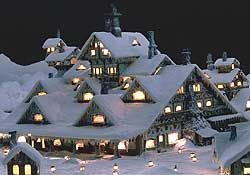 Geoff Beauchamp is the Regional Manager of Mobile Ed Productions where "Education Through Entertainment" has been the guiding principal since 1979. Mobile Ed Productions produces and markets quality educational school assembly programs in the fields of science, history, writing, astronomy, natural science, mathematics, character issues and a variety of other curriculum based areas. In addition, Mr. Beauchamp is a professional actor with 30 years of experience in film, television and on stage. He created and still performs occasionally in Mobile Ed's THE LIVING LINCOLN