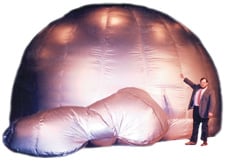 We have been back in the Chicago area this week with Sky Dome Planetarium, our portable planetarium school assembly, presented in schools there by the exceptional Rojo. He just appeared at a school in Joliet, Illinois, and judging by the reaction I think they liked him!
Here is what we heard from the Assistant Principal, Jeff Gerard:
"We were fortunate to have a representative from your company conduct Sky Dome presentations throughout the day at our elementary school- Heritage Trail.
I was very impressed by Rojo. His positive demeanor and rapport with the students was phenomenal. His presentation was interesting and engaging regardless of the grade level. This is the time in the school year when our students are not always the most attentive audience. Rojo anticipated the students behavior and made his expectations for the students crystal clear.
By setting the tone upfront, he was able to share several interesting facts about the constellations and the solar system.
I would recommend your company and especially Rojo to any school that is looking for a high energy fact-filled learning experience.
Sincerely,"
Pretty Cool, huh?
But even before that we had already heard from our main contact at the school, teacher Jeanne Rambo, who sent this note scant minutes after Rojo finished his day at the school:
"WOW!!!! What an excellent show! All of our students loved it! My students were chanting ROJO as they were leaving school today! I can't begin to tell you how happy we were to have such a great presenter and educational show! Thank you so much for giving our students the opportunity to learn about space in such a fun and engaging way. We look forward to seeing Mr. Rojo again!"
Of course, we know how cool Rojo is and how great a school assembly Sky Dome Planetarium provides, but it sure is nice to hear it so enthusiastically from our client schools in Illinois.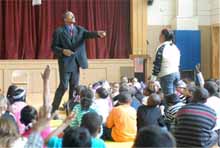 Whether you are in Illinois or not, you can bring Rojo to your school next year. We are now accepting orders for dates throughout the country for the 2011-2012 school year. But don't wait. Rojo's fans are already scheduling the best dates and once they are gone they are gone. And remember this, too .... Rojo is just one of our many wonderful school assembly performers. Mobile Ed has a very deep bench! No matter whether you are in Illinois, California , Texas, Ohio or New York, and no matter whom we send to perform at your school, you can be assured of a very good time!
Geoff Beauchamp is the Regional Manager of Mobile Ed Productions where "Education Through Entertainment" has been the guiding principal since 1979. Mobile Ed Productions produces and markets quality educational school assembly programs in the fields of science, history, writing, astronomy, natural science, mathematics, character issues and a variety of other curriculum based areas. In addition, Mr. Beauchamp is a professional actor with 30 years of experience in film, television and on stage. He created and still performs occasionally in Mobile Ed's THE LIVING LINCOLN