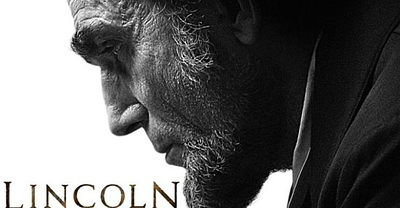 To no one's surprise, Steven Spielberg's film Lincoln has gathered a large array of nominations for this year's Academy Awards. Best Film, Best Actor and on and on. The film is brilliant and deserves all the recognition it can get. In particular, the performance of Daniel Day Lewis in the title role deserves supreme accolades.
As a student of the sixteenth president, and as one who has performed in that role in thousands of performances over the last twenty-some years, I can say with some modest authority that Mr. Lewis captures the soul and intelligence of the man perfectly, in a performance rife with a multitude of subtle variations and details. He simply is Abraham Lincoln. We sincerely hope the Academy agrees and presents him with the Best Actor Oscar. And, for that matter, he should receive every other "best actor" award possible this year.
But, for those responsible for educating students about history, the film also presents a perfect opportunity for bringing to life this amazing man so that children can learn to appreciate his greatness and impact.
Still, the film, as wonderful as it is, deals with only a small portion of the life of Mr. Lincoln (one month, really). And though this was a truly important moment in his life, it reveals, by necessity, only so much.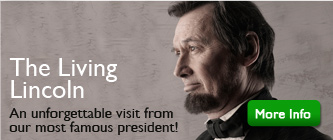 For those interested in introducing their students to a more fully rounded synopsis of Mr. Lincoln and his entire life, we highly recommend scheduling a performance of our Living Lincoln school assembly. This 45 minute program (closer to an hour when you add in time for the fascinating Q and A) has proven itself over and over again during the last twenty years as a peerless method for introducing children of all ages to our greatest president. Now, in light of the opportunity presented by the new film, there is no better time to offer this sterling show to audiences.
See the film, by all means. Allow it's greatness to captivate your children. And then bring to them The Living Lincoln to complete the experience.
We promise a school show neither you nor your students will ever forget!
Oh, and if you have seen the film, please let us know what you think! Leave a comment below. Even if you disagree with our appraisal, we would love to hear from you!
Geoff Beauchamp is the Regional Manager of Mobile Ed Productions where "Education Through Entertainment" has been the guiding principal since 1979. Mobile Ed Productions produces and markets quality educational school assembly programs in the fields of science, history, writing, astronomy, natural science, mathematics, character issues and a variety of other curriculum based areas. In addition, Mr. Beauchamp is a professional actor with 30 years of experience in film, television and on stage. He created and still performs occasionally in Mobile Ed's THE LIVING LINCOLN