---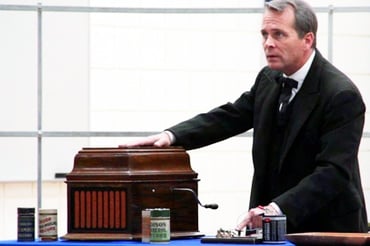 History comes alive with Thomas Edison - now available in Califorina and the Pacific Northwest

Our Thomas Edison assembly program has been a mainstay in our lineup for years. Some of our very best performers have played the role of the world's greatest inventor including Joe French, Jim Tait, Ryan Thompson, Tom Swenson, Tom Johnson and more.
Now, Peter Small joins the list of world-class Thomas Edison performers! This veteran history performer also portrays George Washington, Teddy Roosevelt and Thomas Jefferson in school assemblies of their own. He will be playing Edison (and the other characters) in schools in California, Oregon, Washington, Arizona, Nedava, New Mexcio and Colorado, with other states to be announced.
Watch Thomas Edison in action in this video:
You can bring this level of inspriation to your school this year.

Even if you can only afford to have a few assemblies a year, Thomas Edison is a great choice because it combines science with history and the arts - a true STEAM experience in 45-minute assemblies the whole school can enjoy!