We are very proud of the wide variety of educational programs we are able to offer schools all over the country, and we just so happen to have three of those programs traveling in a single tour covering topics from science to character building. Take a moment to learn more about these wonderful (and affordable) assemblies for your students.
In order to create our tours of assemblies, we assign an assortment of shows to each of our performers. Generally, each performer will carry the equipment for at least two shows, but some can perform up to five different programs! These entertaining educators generally perform assembly shows in a radius around their homes, however sometimes they "hit the road" for extended tours in areas we don't normally get to visit. These factors all contribute to program availability.
This year, one of our performers is carrying a great lineup of science and character building programs. These particular shows are a very economical way to give your entire school an assembly experience as they can be performed for as many kids as your venue holds. While this is the case, we recommend smaller groups so we can provide tailored performances for different ages.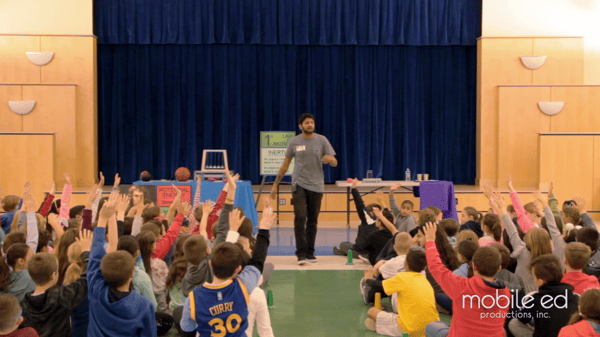 The Magic of Science is one of our longest-running educational programs. It combines the appeal of magic with the curiosity of science in a way that glues kids to the stage. It's also a great supplement for elementary science at anytime during the year, touching on elements of both chemistry and physics.
Just recently, our sales manager, Mark, went out to see a Magic of Science performance locally and had a smile from ear to ear the whole time. I think his words were, "I did not expect to have that much fun." And he's seen it before! If a man in his 30's had a good time with it, your kids will flip.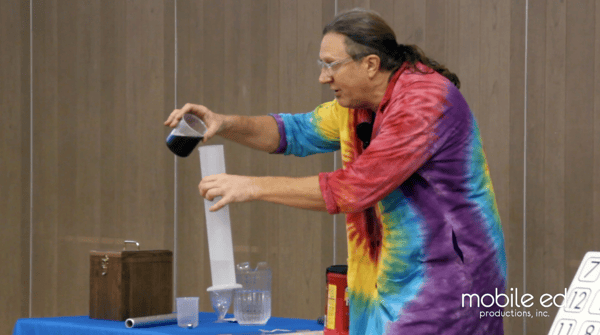 For physics fun, Forces and Motion is also available! This show will teach any kid, from kindergarten to middle school, the basics of Newton's Laws of Motion. By using awesome demonstrations that kids instantly understand, they'll leave the assembly with a grasp of high school-level physics concepts. Some of these demonstrations could even be the basis of a science fair project, so you might want to consider tying it into a similar event to really inspire your students.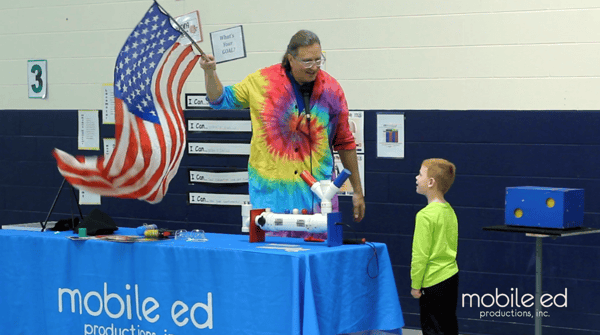 If you're looking for a character building supplement, we've also got The Inspector Iwannano Show! This show will have your kids squealing in delight with the wacky demonstrations and magic tricks, but the takeaway is priceless character building involving the pillars of character, what it means to be a good citizen and how to be a good friend. It's more for the little ones, but we can do your whole school in a single assembly to better accommodate your budget.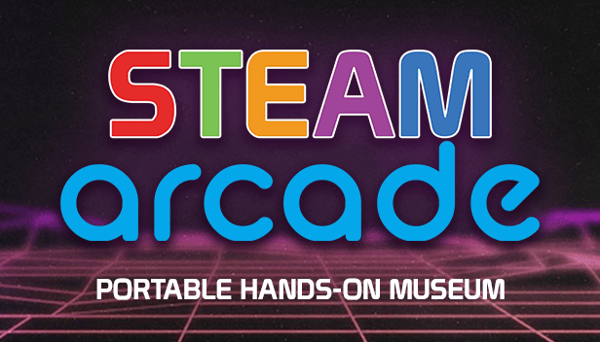 Also on the same tour is the new STEAM Arcade, a portable hands-on museum! This is an awesome option if you are looking for entertainment for a bigger event, such as a fund raiser, family night, or other celebration. It features at least 10 different games that couldn't have been made without an understanding of the STEAM elements. The games demonstrate patterns, graphic design, programming, and milestones in gaming history.
It's easy to order any of the above assemblies! Just call us at 800-433-7459 and ask to speak to the regional manager in your area. They can tell you what dates are available and give you a price quote over the phone.
I hope we can bring the field trip to you this year!