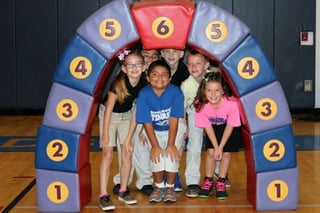 We put the A in STEAM in this comprehensive update of our hit program

STEM Museum has only been on the road for two years and is already one of the most popular programs we have ever offered. Due to the demand, we created a second unit of the traveling museum...but we didn't stop there.
We went STEAM.
The STEM initiative opened the nation's minds to the idea of synergestic education, where traditional walls between subjects could be bent and broken to allow for new trains of thought, but STEAM takes it further by openly incorporating the arts. This allows for right-brain thinking in normal "scientific tasks".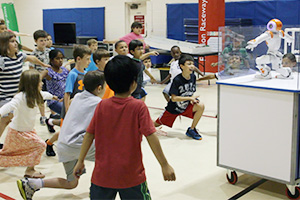 One way Mobile Ed's STEAM Museum incorporates the arts by allowing students to interact with NAO, currently one of the most advanced humanoid robots ever made. This $8,000 robot is unavailable to the general public A robot that with a different, less cuddly exterior could look like the thing out of a terminator's nightmares, is instead loveable by children because of thoughtful design.
Some of this education is literal, spelled-out and posted on colorful signage deployed throughout the museum, but most of the learning comes from hands-on interaction and up-close observation - some good design of our own.
So, what does the A in STEAM mean? It means a scientist must be artistic if their data is to be arranged in a way people can interpret. It means an engineer needs a sense of style if their creations are to be reveared...or feared. It means a technologist requires empathy if their creations will ultimately help mankind...or harm it.
Watch this video showcasing Mobile Ed's STEAM Museum:
Seamlessly blending the disciplines of science, technology, engineering, art, and mathematics through cutting-edge, interactive exhibits...brought to your door.

As previously mentioned, there are now two units of Mobile Ed's STEAM Museum touring the nation, one dedicated to the East Coast, the other touring throughout the Mid-West and Texas. There are plenty of opportunities for you to experience the STEAM Museum in your own school - contact Mobile Ed to get the process started today!