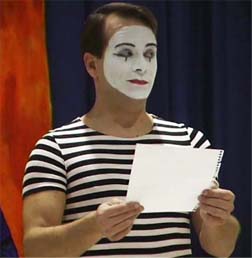 My apologies as it has been a long time since we commented in our blog. Mea culpa...all I can say is that the Spring time is very busy around Mobile Ed getting everything lined up and in order for the new school year.
But in the meantime we continue to receive countless great reviews for our school shows, and I wanted to share a few today.
One of our best veteran performers is Tom Johnson, known to his legions of fans as Toma the Mime!
Tom created and performs our Young Authors Day creative writing program and his presentation is magnificent. What would you expect from a performer who was personally trained by great French mime Marcelle Marceau?
Here is a recent appraisal of Young Authors Day from Rachelle Cook in Harbor Springs, Michigan:
"It was wonderful! This was our 2nd time having Toma the Mime and we can't wait to have him back again in years to come!"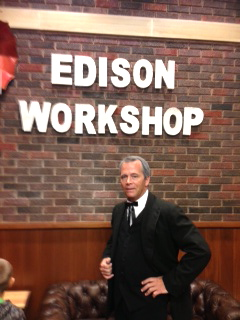 But Tom also offers a few other equally awesome school shows. He added Thomas Edison to his bag of tricks several years ago, and more recently helped create our amazing Air:The Invisible Wonder.
Here is a review of Thomas Edison from Christine Boyer at the Center Road School:
"We love having Thomas Edison visiting our school (Center Road School in Vernon) every year. One of our highlights for 4th grade :)"
Finally, here are some comments in regard to Air:The Invisible Wonder:
"The show was great!! The presentation was superb. The children were engaged and they were eager to try to make their own inventions. They had lots of questions after the performance and excited to find out new ways to discover the wonders of Air."
Vanessa Bryant - PS 140 Jamaica, NY
"According to the feedback I received from staff, this was the overall favorite assembly all year. I would like to consider the presenter for other venues."
Candace Harrison - Bow Elementary School, Bow, NH
It is true, and both schools and kids adore Tom. You will, too, with any of his outstanding shows. But don't wait too long as his tour for next year is already filling in!
Geoff Beauchamp is the Regional Manager of Mobile Ed Productions where "Education Through Entertainment" has been the guiding principal since 1979. Mobile Ed Productions produces and markets quality educational school assembly programs in the fieldsof science, history, writing, astronomy, natural science, mathematics, character issues and a variety of other curriculum based areas. In addition, Mr. Beauchamp is a professional actor with 30 years of experience in film, television and on stage. He created and still performs occasionally in Mobile Ed's THE LIVING LINCOLN. He also spent ten years coordinating assembly programs for the elementary school where his own children went to school.