I was just speaking with another member of our staff here, and I was reminded of an old story from my early days performing my Abraham Lincoln assembly program, and I thought it might be amusing to some.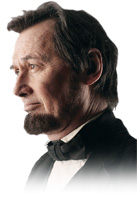 I have been performing school assemblies in Michigan and elsewhere since 1989 (I started when I was 12 ... LOL), and this story goes back a long way. It was probably back in 1990 or 1991. I was scheduled to do my school assembly here in the metro Detroit area, over on the east side of town one morning, with a second booking that afternoon at a school on the west side. Now some school assembly performers will change costume before leaving a school and then put it back on at the afternoon school, but I have always been one to just stay in costume and travel that way. No one sees me in the car usually anyway, right?
Well, I finished my morning performances and left to go to the afternoon school. I had plenty of time, as the afternoon show was not until 2 PM. Now, usually school assembly performers from Mobile Ed are encouraged to arrive at their school a good 45 minutes before show time, and it usually takes that long for them to set up. In my case, however, I have almost no set up for the afternoon, as I am already "dressed", so, in the past, I would sometimes leave only thirty minutes. Even that was almost always far more than I needed.
Well, on this particular day, I arrived safely at the afternoon school, and pulled into the parking lot. I noticed a door opening from a wall that looked to be the outside of the gym. A face peaked out and spotted my car. I rolled down the window and, with no apparent recognition of the irony of asking a man in a black suit with a tall hat and a beard but no mustache this question, he blurted out "Are you Lincoln?".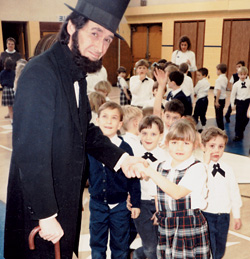 Before I could respond, he yelled at me to hurry and get inside.
Quickly and with great confusion, I slid my car into a parking space and jumped out with my hat and walking stick. As I walked toward him I said that I thought I was early. In great haste he explained that they had changed the start time and called the office a few days earlier to alert them and me. Somehow I had not gotten the message. I learned, to my horror, that the audience had now been waiting, assembled on the floor of the gym, for a good thirty minutes. Before I could even think, I moved toward the door. It opened directly into the gym. As I reached the door I heard the sound of 350 elementary age students chanting at full volume "We want Lincoln! We want Lincoln!" As I entered the room there was a brief moment of silence.... I raised my arms like an Olympic athlete, and the decibel level went through the roof as the kids all jumped to their feet and began to scream and cheer at levels these old ears have not heard outside of a rock concert.
I am sure it was relief, and pent up energy and not me, but the happiness inside that gym was palpable. Thankfully, they eventually calmed down and I was able to proceed with the program. Everything worked out, they enjoyed the show thoroughly, and all ended happily. Though I have been warmly welcomed many times, I have never had THAT kind of entrance again!
Last minute changes are a possible source of confusion for school assemblies and especially for school assembly performers. Since those long ago days, we have introduced many policies, and safeguards to prevent this kind of mistake. And, of course, we have many other fine school assembly performers who have joined us over the years, including several "Lincolns". One of them, in particular, is a great fellow, Fred Priebe, and does a wonderful Lincoln. I don't think he has ever been late to a school, but I will have to ask him if he has ever been greeted this way himself.
Still, if you are looking for assembly ideas, and you decide to schedule an Abraham Lincoln school assembly, you can have a little chuckle remembering the audience that "wanted" Lincoln!
Geoff Beauchamp is the Regional Manager of Mobile Ed Productions where "Education Through Entertainment" has been the guiding principal since 1979. Mobile Ed Productions produces and markets quality educational school assembly programs in the fields of science, history, writing, astronomy, natural science, mathematics, character issues and a variety of other curriculum based areas. In addition, Mr. Beauchamp is a professional actor with 30 years of experience in film, television and on stage. He created and still performs occasionally in Mobile Ed's THE LIVING LINCOLN