Mobile Ed Productions, Inc. is proud to announce our latest educational invention touring America's schools - STEAM Pinball.
The world's first educational pinball machine, STEAM Pinball is a state-of-the-art simulation that allows kids to explore gravity, friction, geometry, addition, subtraction, and positive and negative numbers through timeless pinball gameplay.
STEAM Pinball combines the five STEAM subjects (science, technology, engineering, art and math) in an attractive, interactive, instantly-recognizable package that kids and adults will enjoy. It replaces mechanical components traditionally found in pinball machines with crisp graphics and a realistic physics engine to accurately simulate the traits of different materials and how they interact with the silver ball. And the best part is, thanks to the innovative game rules, kids will practice their mental math skills without even knowing it.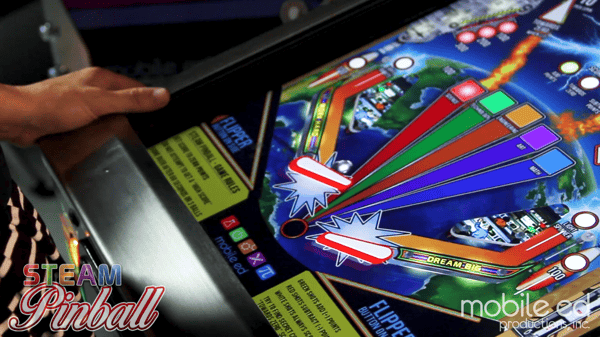 In a normal game of pinball the goal is to get the high score, but STEAM Pinball changes the game by challenging players to get their score to zero! Green shots add points while red shots subtract. With the help of their flippers, players decide which shots and targets will take their score in the direction they need it to go, and figuring out the geometry to take the ball there.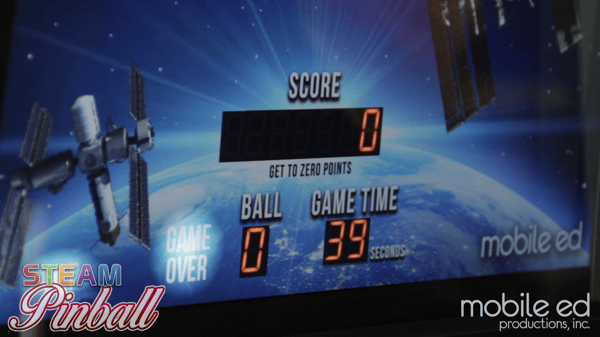 The game features an idealistic space theme that has players use the STEAM elements to build a space station. Stereo music and futuristic sound effects immerse players in the game while dual displays showcase the action and score. The artwork encourages players to "work hard" and "dream big" as they strive to achieve their goal.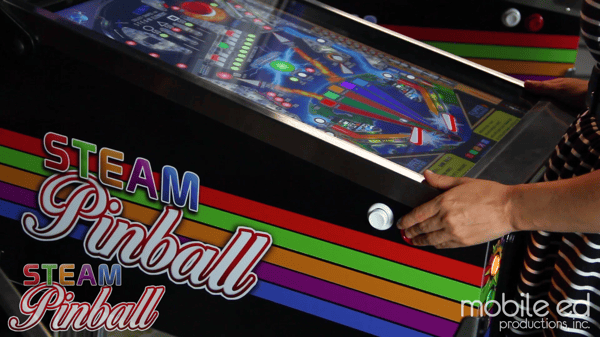 STEAM Pinball is just like a real commercial-grade pinball machine, only smaller. This makes it the perfect size for younger elementary students, but not too small for older kids or even adults to play.
STEAM Pinball is not for individual sale and is only available at Mobile Ed's STEAM Museum traveling hands-on museum.
Mobile Ed's STEAM Museum has been touring the United States since 2011, delivering hands-on educational experiences to hundreds of thousands of kids from coast-to-coast. Every year new exhibits are added, such as last year's hit Music Maker, and STEAM Pinball is one of this year's new attractions.
To schedule the STEAM Museum at your venue, click here or just call 800-433-7459 and speak with your regional manager.
About STEAM Museum:
Mobile Ed's STEAM Museum has been touring the United States since 2011, providing a true "field trip that comes to you" with over 10 interactive, hands-on exhibits, each encompassing all elements of STEAM (science, technology, engineering, art, and math) education. There are workstations that not only augment existing science and math curricula, but it also exposes students to high-tech fields of study they may never before had access to. In addition, STEAM Museum puts the A in STEAM by opening up your students' right-brains through activities that encourage divergent thinking. STEAM Museum isn't just a display, though - it comes with a knowledgeable presenter who will guide the museum's guests, ensuring retention. There are currently three units of STEAM Museum touring the country throughout the year.
About Mobile Ed Productions:
Mobile Ed Productions, Inc. has been in business since 1979, producing educational, entertaining school assemblies and hands-on workshops. Based out of Michigan, the company creates, designs, markets and distributes innovative ways to make learning fun in the form of live presentations and interactive exhibits.